Do you deal with occupational health and safety in the healthcare sector?
Do you think the current concept is not effective?
We offer you help with the implementation of training in VIRTUAL REALITY
Training in the correct use of personal protective equipment
protective equipment for protection against covid-19 disease
Handling a sharp object
Sharps injuries
Fire protection
Virtual Reality Goggles - Oculus Quest 2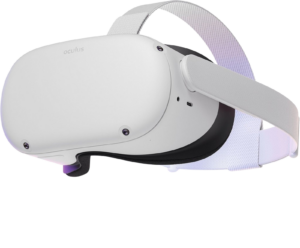 The virtual reality goggles work independently without the need to connect to a PC. Qualcomm Snapdragon XR2 processor, 6GB of RAM, fast-switch LCD panel with 1832×1920 pixels per eye and refresh rates up to 90Hz. 128 GB storage capacity. Three lens positioning options. Precise tracking of body movements without the need for external sensors. Integrated microphone and speakers providing surround sound. Excellent headset ergonomics. Two controllers with unique design. Connectivity is provided by USB-C port and 3.5 mm headphone output. Dimensions 230 x 175 x 104 mm, weight 321 g.
All-in-one
360° range
Oculus Quest Headset
Two Touch controllers
Hand Tracking
Price: 10 – 15 000 Kč